What is SEO?
The term "SEO", or acronym SEO, stands for Search Engine Optimization. Or is spelled search engine optimisation if you're in the United Kingdom.
What's important to know with SEO is how it works.
Understanding all of the endless complexities of SEO (search engine optimization) takes years of in-depth studying and hands on practice. Becoming really good at search engine optimization is like passing the bar in the legal field.
It takes years of meticulous hard work to become an SEO expert.
Personally I've been working on website optimization for the search engines for 20 plus years and I'm still learning with every new Google search core algorithm update.
Does your business need search engine optimization?
Hiring someone to work on SEO can be good for your business if you take the time to talk with them and make sure that you're both on the same page with objectives and expectations for search engine optimization campaign.
On the other hand, hiring an average SEO company will do little to nothing for your business.
Hiring the wrong agency could actually end up hurting your business and its Google search rankings so choosing a well-qualified SEO firm is critical to your plans to improve your organic search positions.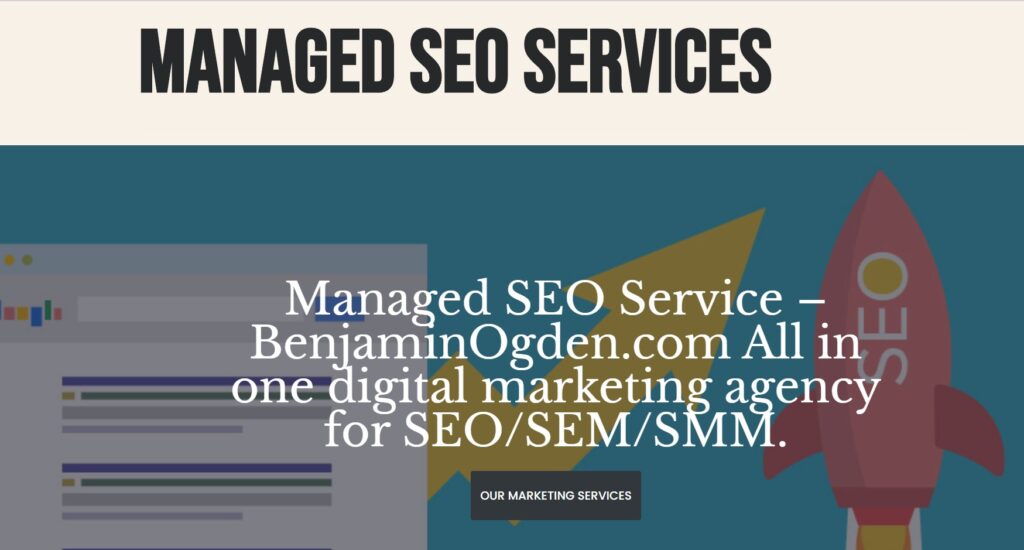 What is managed SEO?
The term "managed SEO" refers to search engine optimization management services provided by SEO agencies and digital marketing professionals. Business that hire ongoing marketing campaigns to improve their Google search positions can consider using managed SEO to help better position websites with the search engines.
BenjaminOgden.com offers a managed SEO service that costs around one thousand dollars per month. Its more expensive than many of the other managed search engine optimization services available so its best for companies in super competitive industries where standard white-label SEO products don't get the desired organic search traffic from rankings achieved in the search engine results pages.
They key to developing solid managed SEO plans starts with communication between you and the marketing agency that you hire to work on your website's search engine optimization needs.
From there, conducting proper keyword research along with industry and competitor analysis are the next steps in building a good managed SEO campaign.
About BestWebHostingSites.com (BWHS)
BWHS provides reviews of the best web hosting services. BestWebHostingSites.com is associated with BenjaminOgden.com as we're both owned, operated, developed and optimized by Benjamin Ogden.
BestWebHostingSites.com (BWHS) reviews BlueHost, SteGround, HostGator, Kinsta, Godaddy and other top web hosting service providers.